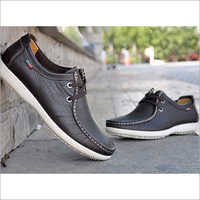 Men's Canvas Shoes
Product Description
Men's Canvas Shoes are delivered in black color which are made up of pure leather and are available in all sizes. These shoes are designed keep the style statement of men in mind. They have laced up pattern which takes acre of the exact fit of the product. The insole material is made up of suing rubber and PVC. The shoes give a perfect fit and are highly comfortable which is utmost requirement of the wearer. Counted in casual attire, Men's Canvas Shoes goes really well with your denims and Bermuda's.
Features:
Comprising materials make the shoes durable.
Inner sole is sweat absorbent.
Known for being anti odor.
Very comfortable and fashionable.